Jeremiah Chapman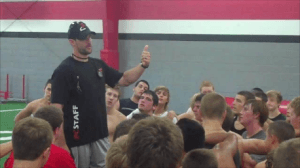 As the vice president and director of programming and consulting, the Performance Course has seen unprecedented growth since his arrival 9 years ago. Jeremiah is one of the most well rounded and respected strength and conditioning professionals in the country and is known for his innovative approaches to performance program design. Jeremiah has worked as a full time strength and conditioning coach on the high school level in Texas and holds a level 1 coach certification through Dr. John Berardi and Precision Nutrition.
Jeremiah mentored under Geno Pierce CSCS in college as an intern and under Yancy Mcknight CSCS (Iowa State University) as a post graduate earning the Collegiate Strength and Conditioning Coaches Certification (CSCCA). Jeremiah is primarily involved with all sites on the west side of the DFW metroplex.
A resident of Roanoke Texas, Jeremiah was a 4 year letter winner and 3 time All Conference performer at defensive end and team captain for the University of North Texas where he received his degree in sports management. Jeremiah and his wife Ashley have a daughter Ryann (3).
Along with his CSCC and Precision Nutrition certification he is certified by the National Strength and Conditioning Association (NSCA) as a Certified Strength and Conditioning Specialist (CSCS) and by USA Weightlifting as a Level 1 Club Coach (USAW).