Kirk Byerly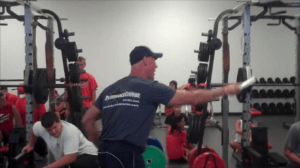 Serving as Executive Director of Ft. Worth/West Texas operations Kirk is one of the most seasoned sports performance professionals in the field. Kirk joined the Performance Course team 10 years ago. With a career that has spanned 3 decades, Kirk provides a wealth of experience and knowledge. Kirk was an owner of Metroplex Sports Medicine before selling that venture to Health South. Kirk was also an owner in The Ranch Health Club. At The Ranch he started a business called Fast Twitch, and Athletic Enhancement Systems. During that time Kirk trained many high school, college and professional athletes. His most notable clients were Emmitt Smith, Charles Hayley, Dez Bryant, Grant Wistrom, Bryan Young, Brian Watters, and Mike Modano. Kirk has also worked part time with the Dallas Stars and Dallas Cowboys.
Kirk was a graduate assistant strength coach while working on his masters degree at Texas Tech before being hired as full time assistant strength coach at Tech. Kirk would later serve as the head strength and conditioning coach at Eastern New Mexico and as an assistant again at The University of Tennessee. Kirk has had the privilege to work with a number of legendary strength coaches: Joe Juraszek (Texas Tech, Dallas Cowboys), Phil Emory (GM Chicago Bears), JJ McQueen (Dallas Stars).
Kirk resides in Ft. Worth Texas and was a 3 year letter winner in football at Lubbock Christian University before obtaining his masters in Scientific Basis of Exercise from Texas Tech. Kirk has three children. Russell (18), Brit (21), and Beau (23).
Along with his masters degree Kirk is certified by the National Strength and Conditioning Association (NSCA) as a Certified Strength and Conditioning Specialist (CSCS) and by USA Weightlifting as a Level 1 Club Coach (USAW).