Jeremiah Chapman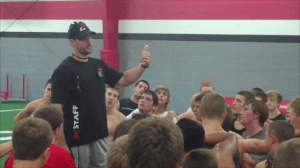 Jeremiah is the Vice President and Director of Programming for Performance Course. He is involved in overseeing all sites on the west side of the DFW Metroplex and also serves as the coordinator of programs at Carroll High School.
Jeremiah has worked as a Strength and Conditioning Coach for over a decade with experience at the high school, collegiate and professional level. He is a well-rounded and respected strength coach and is known for his innovative approaches to program design. He has been a catalyst for unprecedented growth at Performance Course since arriving fifteen years ago.
Prior to joining Performance Course, Jeremiah was a four-year letter winner and three-time all-conference football player at the University of North Texas where he graduated with a Bachelor's Degree in Sports Management. Jeremiah mentored under Geno Pierce while interning with PC during his final semester of college. After graduating, he interned with Joe Juraszek and the Dallas Cowboys. Jeremiah also worked under Yancy McKnight (University of Texas) while becoming Strength and Conditioning Coach Certified (SCCC) through the Collegiate Strength and Conditioning Coaches Association.
Jeremiah resides in Argyle, TX with his wife Ashley and their daughter Ryann (9) and son Ashton (5).
Along with his SCCC, Jeremiah is a Certified Strength and Conditioning Specialist (CSCS) through the National Strength and Conditioning Association, a Level One Sport Coach through the USA Weightlifting Association (USAW-1) and a Level One Coach through Precision Nutrition (Pn-1).