Tyler Floyd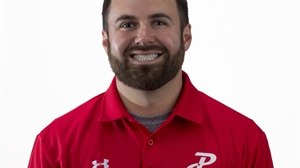 Tyler serves as a coordinator in Lewisville ISD and Frisco ISD. He is certified through the National Strength and Conditioning Association (NSCA) as a Certified Strength and Conditioning Specialist (CSCS) and is a Cum Laude graduate of the University of North Texas (2007) with a B.S. in Sports Management.
Tyler came to Performance Course in 2016 after serving on the PC Summer Staff for 2 years. Prior to that, he invested 9 years as a middle school and high school coach and math teacher. He began his coaching career at Dawson MS in Southlake before having the opportunity to coach wide receivers at Grapevine HS under Dave Henigan and at Marcus HS under Gerry Stanford.
Tyler's wife, Tiffany, is a 5th grade teacher and they have 3 children: Kellen, Kaden and Madeleine. They live in Lewisville and are members of The Village Church - Flower Mound. Tyler serves as a mentor through Communities in Schools North Texas and has been a member of the Texas High School Coaches Association (THSCA) since 2008.